Show Posts
This section allows you to view all posts made by this member. Note that you can only see posts made in areas you currently have access to.
Topics - bajonesy77
Pages: [1]
1
« on: February 12, 2014, 04:40:00 PM »
In the mountains of Virginia and getting an inch an hour of snow. Started at 4pm got almost 3 inches now and see Ga., SC. And NC. getting it again along with ice. We are expected to get 8-12 inches by tomorrow maybe more. Got the generator ready to go and the owb keeping the family warm.
2
« on: February 21, 2012, 06:51:53 PM »
so has anyone used these, I have 24 1" crimps to make. For 30 bucks are they worth it or for $80 I can get a decent kit with 1/2-1" at a local lumer yard. I have a friend letting me use some nice 3/4" crimpers. Unless these leak I will never use them again I dont think?
3
« on: February 13, 2012, 06:09:41 PM »
Ok so now I have my stove and everything but my plate hx for my dhw water which Im going to order in the next few days. My question is about the size of my duct work and plenum and how I should go about installing my 18x16 water to air hx. My air mover is the perfect size if I could just install it but the heat pump exchanger is right in the way. The plenum coming out of the top is 16" wide but only 13" long going into the duct work. I know I could build a bigger plenum but is that the best route to go or my only? Jonesy and yea that ac coil is huge 24x18
pictures of my air mover and duct work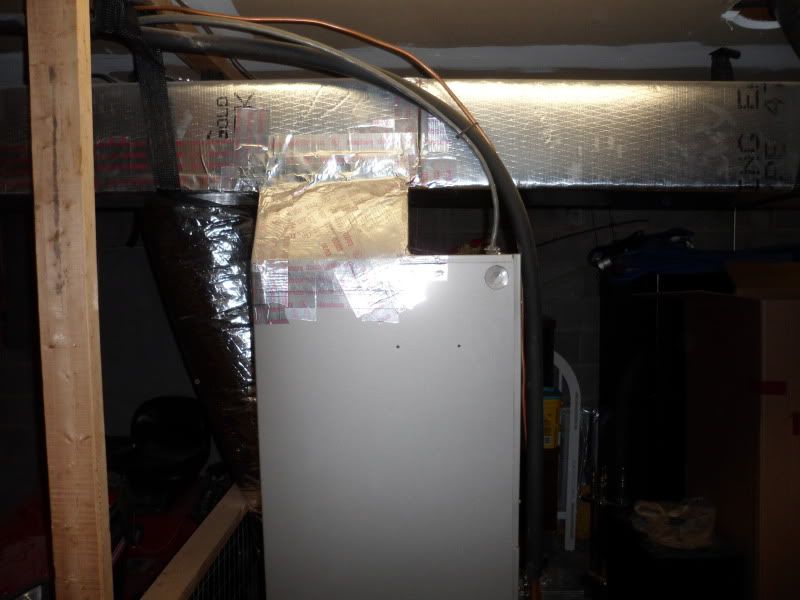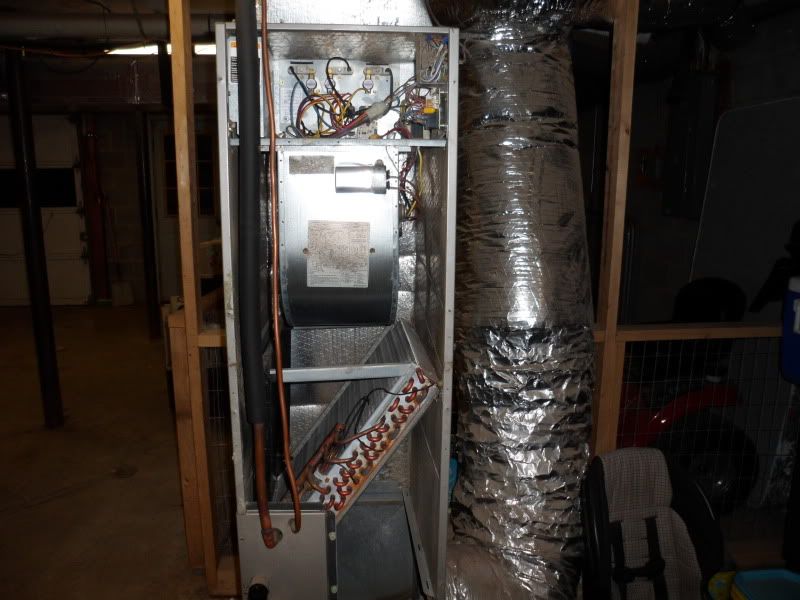 4
« on: January 26, 2012, 12:05:50 AM »
I've been wanting 1 for a year now and just couldn't drop 7-10k on a new one because I just heat with woodstove with a heat pump for back up so the cost savings just weren't going to be significant. Well a guy local to me had a prosteel model 200 heating his 3000sqft home and dhw and he has a bad back and is moving so he wanted to sell the stove. It's 7years old and I am getting everything that is connected to the stove,pump, pex, valves,fittings , 2 heat exchangers with 1 being a custom mounted unit with a fan that is installed in his attic with ducts coming out like a octopus to heat his upstairs. Heck I even got his 22ton brave log splitter with a new motor on it. Will be able to get it all when his new house has the power connected in the next 2 weeks. I will really be reading and researching install info to get the stove ready for next year at my house. Thanks for the great site and all the info. Jonesy
5
« on: January 21, 2012, 06:42:30 PM »
A family friend has one for sale for what seems to be a very good price and the unit is still installed and in working condition so thats not a problem but I cant find any info on this company, The tag says " PROSTEEL model 200 made in canada". Stove looks solid and has a lot of nice features, just has some cosmetic issues, dents, rust on door and a few spots of surface rust on roof. Its 7 years old and hes been the only owner and only replaced the blower fan a year ago as far as problems. Its a mild steel stove and has a round fire box and ranco digital controls and a damper for the flu. Anyone got any good or bad info to add. Thanks
6
« on: January 10, 2012, 04:32:21 PM »
The btu's on the web page are max so wanting some real world info. How many sqft. are you heating, whats your location, which stove, dhw, etc.... I really like how simple they are and the price just looking for owners results. Thanks, Jonesy
Pages: [1]